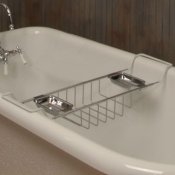 Model #: CP-SH494

This adjustable sponge and soap tray is just like the ones used around the turn of the century.
This tray slides horizontally to custom fit to your bathtub. A great addition to any clawfoot or freestanding tub.
Available in your choice of finish.
(more info...)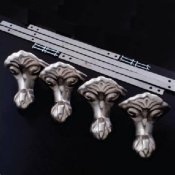 Model #: STR- P0332

Maybe your claw feet are old and shabby and you need some replacement clawfoot tub feet? Maybe you stumbled upon a vintage claw foot bathtub that needs replacement claw feet?
Due to an overwhelming number of customers searching for replacement bath feet, we hav
(more info...)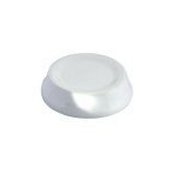 Model #: STR-P0706

Do you have a beautiful bathroom floor that you are worried about getting scratched?
Protect your floor with a set of these porcelain clawfoot tub coasters. They go under the feet of your clawfoot bathtub, and help keep your floor in pristine condition.
(more info...)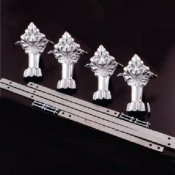 Model #: STR- P0037

Here is a set of Clawfoot tub replacement feet that will work on most tubs manufactured within the last 100 years. These Lions paw styled, universal replacement clawfoot tub feet will be sure to add a stunning element of class to your bathroom.
Each foot has bee
(more info...)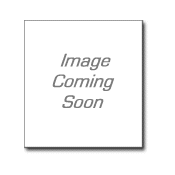 Model #: CAN-LIONS-FEET-SET

This is a set of Lion's Paw style tub feet. The interesting design creates a unique atmosphere of style, as well as luxury for your bathtub.
Available in your choice of finish.
(more info...)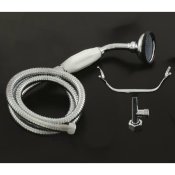 Model #: SH144P/SH144i

This Handheld shower unit kit includes the cradle holder, the hose, and hand held shower unit sprayer with porcelain handle.
You can add this kit onto any of our faucets that have an"up/down" water diverter handle valve.
This kit is available in your choice of finishe
(more info...)

Model #: CP-SH985

A mirror is a handy addition to your classic shower enclosure set. This attractive mirror mounts to the riser of the shower enclosure and has an adjustable arm.
Riser mount
Adjustable arm for ease of use
Available in Polished Chrom (more info...)

Model #: CP-SH180

This is our porcelain "Sunflower" shower head. This shower head features an inner portion sprayer, surrounded by an outer porcelain ring. The inner portion is available in your choice of finishes to match your plumbing.
This unit has an outside diameter that mea
(more info...)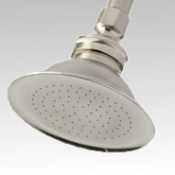 Model #: CP-SH010

This is our standard shower head for use in your shower enclosure setup. This shower head is simple in style and function, yet will provide a finished and elegant look to your bathing space.
This unit has an outside diameter measuring 4 7/8" inches wide. The conn
(more info...)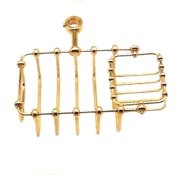 Model #: CP-SH214

A soap tray is a necessary item to have if you are taking regular showers in your clawfoot tub shower set.
This unit will blend in nicely with a matching finish and will not pool with water like other non-traditional soap trays.
This classic design
(more info...)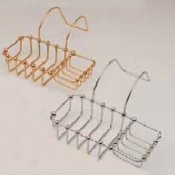 Model #: CP-SH217

This side mount hanging clawfoot tub soap dish is perfect for freestanding and clawfoot bathtubs. It simply rests on the edge of your tub wall, and has two separate compartments to hold your soap and any other bath products.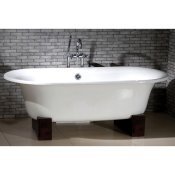 Model #: WOODCRADLE-FEET

This is a wooden cradle base for a double ended tub.
Picture shows the wood cradle base installed on our 59" cast iron double ended oriental tub. (bathtub not included)
These wooden cradle blocks are made from oak, and are stained dark brown (but can b
(more info...)