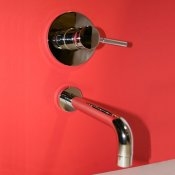 Model #: SIG-SHQ006

Here is a sleek wall mounted bathroom sink faucet that will show nicely with nearly any style of sink or vessel. Refined yet simple, this faucet exudes style in any bathroom from contemporary to classic.
Available in Polished Chrome, Polished Brass, Brushed Nic (more info...)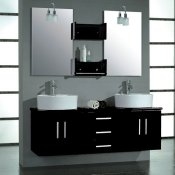 Model #: CP-VAN-5044D

Clean, dark and handsome, an appropriate description for such an alluring bathroom vanity cabinet set. This double sink bathroom vanity set comes in a dark wood finish that complements a modern or minimalist bathroom setting.
This vanity set comes complete with
(more info...)
$1,140.00
w/ FREE Shipping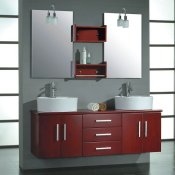 Model #: CP-VAN-5044

This wall mounted stylish bathroom vanity cabinet set may be just the ticket for your master bathroom. With its spacious and contemporary design, it works well with a range of bathroom styles ranging from modern to eclectic.
Best of all, this bathroom vanity se
(more info...)
$1,115.00
w/ FREE Shipping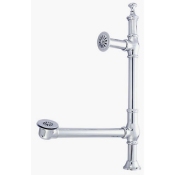 Model #: SIG-SM200/SM200XL

This "Tower" design waste & overflow kit features the more advanced "popup" style drain mechanism.
Rather than the turn & lift, or plug & chain styles of the standard waste/overflow line, this drain comes with a handle knob on the top which allows you to easily dra
(more info...)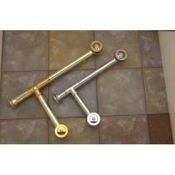 Model #: CP-SH1900

This clawfoot tub drain / waste & overflow unit will fit any of our freestanding acrylic and cast iron bathtubs, and comes with a "Turn and Lift" style drain plug.
To help match with your plumbing, this drain / waste overflow unit comes available in your choice of
(more info...)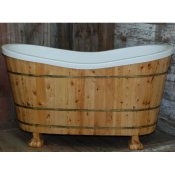 Model #: CP-W-ADES

Perfect for your cabin or rustic bathroom. This enticing double ended wooden slipper tub is where the Old West meets modern technology.
This stylish bathtub is constructed with a cypress wood outer shell and an acrylic interior. This combination allows you to
(more info...)
$2,649.00
w/ FREE Shipping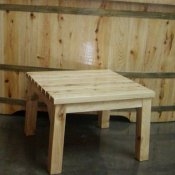 Model #: CP-WT-STEP

This hand crafted step-stool is the ideal accessory for any of our wooden tubs.
Hand-crafted of Chinese Cypress
Fits perfectly with a wooden tub
16x"15"x9"
8 pounds
(more info...)