Shipping Information

We offer Free Shipping for all orders delivered within the Continental United States!

Orders shipping to Alaska, Hawaii and Canada require special arrangement and may incur additional shipping charges. If you live in either of these areas, go ahead and place your order online (or call us), and we will provide you with a personalized shipping quote BEFORE we process your order. (We will not proceed without your approval.)

Orders typically ship from our warehouse within 3-5 business days of purchase.

We currently do not ship internationally (except to Canada).

(For Canadian orders, any customs clearance fees, brokerage charges or other related importation fees, are the responsibility of the customer.)



FREE "LIFT-GATE" SHIPPING ON ALL TUB ORDERS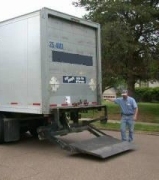 Classic Clawfoot tub prices include crating, free shipping, and a free "Lift-gate" service upgrade! We offer this service standard, while most other internet retailers charge an additional fee upwards of $200.

"Lift-gate" service means the driver delivers your order with a special truck that has a hydraulic lift platform with the ability to easily, and safely lower your freight to the street level. This means that no fork-lift or heavy lifting is needed to get your shipment down out of the truck.

The lift-gate delivery service will lower your freight to ground level, however because this is considered "curbside" delivery, the truck driver will not bring the freight into your house, nor assist with unpacking. In our experience, with a courteous "please", most drivers are happy to help wheel your crate into a carport or garage for you.

You will need to make your own arrangements however, for the items to be brought inside your home.


FREIGHT DELIVERIES FOR TUBS

Since cast iron clawfoot tubs weigh approximately 150-300 pounds each, and acrylic tubs weigh approx. 75-120 pounds, both require crating and ship via freight truck carrier only.

Many times freight companies use semi-trucks (18 wheelers) for delivery of tubs. If the delivery location is not accessible to tractor-trailers (parking on street is ok), please include a note in the "Comments / Special Delivery Instructions" box on the website order form so that delivery modifications can be made (different address, different type of truck, arrange for terminal pick-up, etc.). Additional charges may apply.

Prior to delivery, the freight company will call you to schedule a delivery time that works for you. Usually they will provide you with an estimated "delivery window" of time. Each local freight terminal has their own hours of operation, and they generally do not deliver on weekends.

When the freight carrier arrives, they will unload the bathtub from the truck however they will not take the tub into your home. Please have help available to move the tub from the curb/sidewalk. Be sure to inspect your delivery upon arrival.(Read more on inspection below)

Freight charges paid on your behalf by Classic Clawfoot are non-refundable on returns after the tub has shipped. Manufacturer restocking fees also apply. Please double-check your order carefully before you submit it.

If your order is returned "undeliverable", restocking fees, freight costs, and any storage charges may be deducted from your refund. Customer may also be responsible for any re-delivery fees incurred as a result of missed delivery appointments (if applicable).


SMALLER ITEMS SHIP UPS OR FedEx



Smaller items are typically shipped via ground UPS (FedEx on rare occasion). If you are home when the delivery arrives, please inspect the packages for obvious damage. If a product appears to be damaged, please refuse delivery of the item and notify our customer service department immediately. This way we can ship you out a replacement immediately.

If the delivery is made when you are not home, then please inspect your order carefully. You should confirm the accuracy of the order and verify that all products have arrived in satisfactory condition. Any claims for damages and/or errors must be made within 48 hours of receipt.

All orders are shipped "no signature required" for your convenience, however we recommend that you have the package sent to a safe location. We are not responsible for losses that occur as a result of packages being left in your absence.


DELIVERY TIMES

Orders currently in stock usually ship within 2 days. Since our warehouse is centrally located within the US, orders containing large items should arrive quickly within about 7 to 10 days. (when shipped via truck freight)

Although we do our best to make certain your items arrive when we say they will, we cannot guarantee delivery times. Sometimes items are shipped directly from the manufacturer, so we are not always in control of shipping times. Additionally, we use shipping and trucking companies that do not guarantee their delivery times. For these same reasons, we are not responsible for any inconvenience or monetary loss caused by late deliveries.


OVERNIGHT SHIPPING

On request, we can ship many of our smaller items via Overnight, 2-day air, 3-day air and in some cases Saturday delivery (for an additional fee). Contact us for more information and pricing.


INSPECTING YOUR DELIVERY

We take every effort to ensure that your order is processed correctly, and packaged well to ensure that it arrives to you safely.

Please inspect all items for damage upon delivery.

DO NOT SIGN FOR ANY SHIPMENT WITHOUT INSPECTION

The freight carrier will require a signature to confirm delivery. It is your responsibility to inspect all packages and their contents prior to signing the delivery receipt.

Please inspect your delivery thoroughly before signing any acceptance documents. You should confirm the accuracy of the order and verify that all products have arrived in satisfactory condition. If the merchandise appears to be damaged in any way, please describe the damage in writing on the freight bill and refuse the delivery. Then notify our customer service department immediately so that we can get a replacement order sent out right away. In any case, DO NOT CARELESSLY SIGN THE DELIVERY RECEIPT.

If you discover later that your product was damaged during shipping, you must notify Classic Clawfoot within 48 hours of delivery. Make sure you retain all packing materials, as the damage will be inspected. You will also need to notify the driver or local delivery agent immediately. The carrier will issue a receipt and pick up damaged merchandise. We can assist you with the return if you need.

Delivery refusals for reasons other than freight damage will subject the customer to restocking fees and return freight charges.

Here are some tips for properly inspecting your shipment:


Inspect the boxes for external damage
Remove the packaging and inspect the contents for any physical damage in the presence of the delivery driver.
If there is any damage, indicate so on the delivery receipt. If the product itself appears to be damaged - do not accept it. Refuse the delivery and notify us immediately.
Classic Clawfoot cannot accept responsibility for any damaged product once you sign for a delivery. Damage that occurs during shipment is the responsibility of the shipping company / carrier. Please make sure your freight is acceptable when you sign for it. Once you have signed off, any later recourse may have to be taken up directly with the freight company that delivered your goods.

If you cannot reasonably inspect an item requiring a signature upon delivery, sign the receipt and write the words "One crate received - contents not inspected". While this does not guarantee that the shipper will pay a damage claim, it is better than signing for the item as "free and clear" from damage.

Please be advised all UPS packages and common carrier freight must be inspected for damage within 2 business days. Damages claims made after these time periods may be rejected by UPS or the freight carrier.

If you discover any damage after the delivery has been signed for, please contact us within 2 business days of the delivery.


If you have any questions, please contact our customer service department.