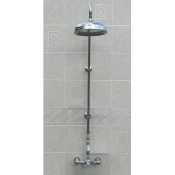 This thermostatic wall shower set is first class all the way. This beautiful wall mounted exposed shower is absolutely guaranteed to elevate the luxury level of your bathroom and be a wonderful addition to your shower space.

If you're not sure what a "thermosta...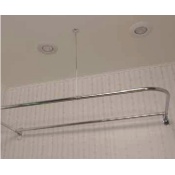 This is a wall mounted "D" shaped shower enclosure ring set. It comes with the ring, the mounting hardware, and a 36" inch ceiling support brace that can be cut to fit your exact height.

This enclosure ring is perfect when your adjacent mounting walls are limited...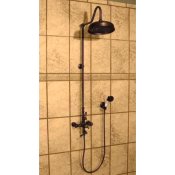 What a beautiful wall mounted shower! This impressive thermostatic controlled wall shower is even better looking in person, and is sure to impress and increase the "style points" of your bathroom.

Anti-scald devices such as this one, are now required in some coun...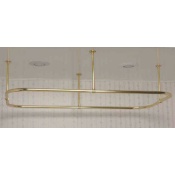 This is a rounded corner rectangle shower enclosure ring set that includes the support braces and escutcheon rings.

The included mounting braces allow you to mount the shower enclosure ring entirely from the ceiling.

This set includes the fo...