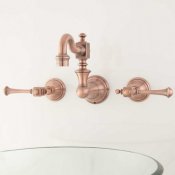 This eye catching vintage wall mount bathroom faucet is sure to compliment your space with an elegant touch that is sure to impress all who see it.

The impressive detailed spout creates interest and appeal, and will instantly increase the perceived value of your b...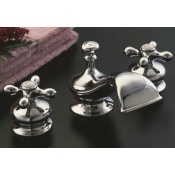 This is a wide spread sink faucet set that features an extra wide snout. This faucet is part of the "Thames" set from Sign of the Crab plumbing, and is made from top of the line brass construction with plated finish, and 1/4 turn ceramic valves.

Many customers de...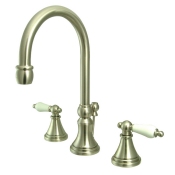 This wonderful Victorian style gooseneck faucet would be a welcome addition to your bathroom sink area, and a great compliment to your gooseneck style bathtub faucet.

This faucet can be used with a console sink, vanity, or any other sink that can accommodate an 8...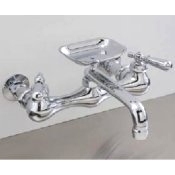 This classic kitchen faucet with soap dish is the perfect addition to any old fashioned home decor.

Similar to kitchen faucets of 100 years ago, this vintage reproduction kitchen faucet contains modern ceramic valve technology that far surpasses the quality of ...