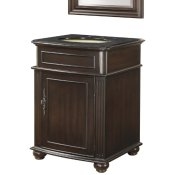 Model #: CI-VAN-FYR474A34Z

If you have a smaller bathroom, consider this delightful 24" sink vanity. Elegant and charming in any smaller bathroom, this delightful unit will be sure to please. Improve the look even more with the purchase of an optional backsplash and matching mirror.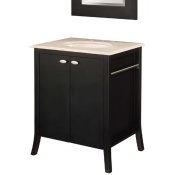 Model #: CI-VAN-FYR809

A beautiful 28" bathroom vanity that is as delectable as it is practical for a smaller bathroom setting. This bath vanity will complement any decor with a style that blends well with classic and contemporary styles.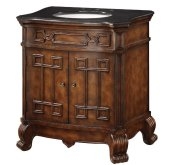 Model #: CI-VAN-FZR072

If you need a rugged looking vanity for your home, take a look at this attractive 30" vanity. The heavy and straight lines, ending in robust paw feet are almost Jacobean in style. I'm sure you will agree this bath vanity would look best in a classic bathroom. Select the m
(more info...)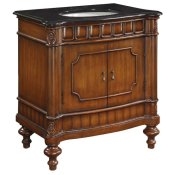 Model #: CI-VAN-FZR071

An old-fashioned design has been captured in the construction of this new piece. Of all the bathroom vanities available, you might consider adding this vanity to your space to bring more style to your traditional bathroom.
This exquisite vanity is full of detaile
(more info...)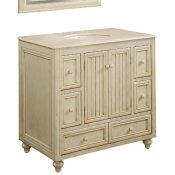 Model #: CI-VAN-FYR751AEQU

A shaker style vanity that will be a nice piece in any medium size bathroom. You will enjoy the multiple recessed drawers, double v-board doors and marzipan marble counter top. The decidedly shaker style of cabinet rests atop tapered bun feet and offers a matching optional
(more info...)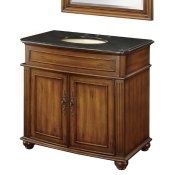 Model #: CI-VAN-FYR475AGHC

Here is a 36" vanity for all occasions. The beauty of transitional bath vanities like this one, is the ability to look great in any environment.
The standard size of this vanity cabinet works well in large to medium size bathrooms. Just add a vanity mirror an
(more info...)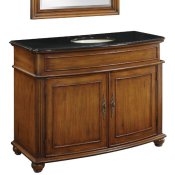 Model #: CI-VAN-FYR476AGHC

A rich finish and modest detailing don't stop this bathroom vanity from bringing radiance to your bathroom. Enjoy this 48" vanity in a variety of home settings from old to new. An off white porcelain sink, triple fluted pilasters resting on top of attractive bun feet, "who
(more info...)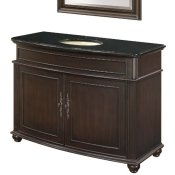 Model #: CI-VAN-FYR476A34Z

This single sink vanity features a black (India Ink) vanity top and dark wood finish. This transitional style of vanity will go with almost any bathroom setting from modern to classic. You will love the subtle lines, fluted edges, and off white porcelain basin on this vani
(more info...)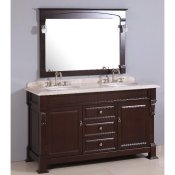 Model #: CP-VAN-1152

If you want elegance and style on a budget, this traditional 60" vanity and double sink combo could be just the thing you're looking for.
(more info...)
$1,427.00
w/ FREE Shipping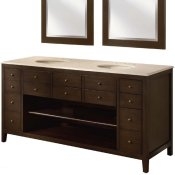 Model #: CI-VAN-FYR771

This unadorned bath vanity just may be the best choice for any bathroom where you have the space. Here is an absolutely fabulous cabinet with a deep and rich finish, attractive apothecary inspired multitude of drawers and even a shelf for towels. Choose the optional double
(more info...)
$1,449.00
w/ FREE Shipping